Virtuosic Spanish Guitar music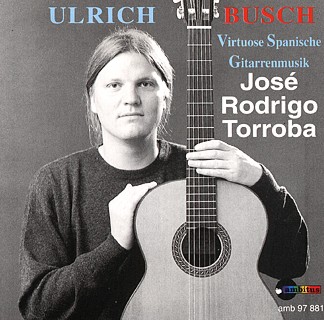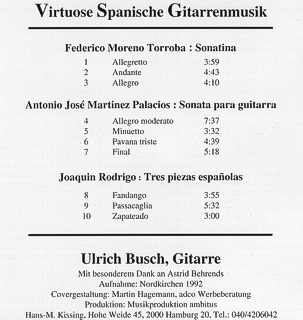 Listen to ...
Johann Kaspar Mertz
Nr.1 Fantaisie Originale op.65/2 (mp3)
Mauro Guiliani
Nr.6 Rossiniana No. 1 op.119 (mp3)
Review
Right from the beginning of this CD we realize what virtuosic Spanish Guitar music is about.
His tone is molto cantabile and he has a dynamic that is very carefully graduated. Very emotional and an absolute delicate pianissimo.
Fascinating the way Ulrich Busch brings the Spanish elements to life in his playing. The colourful dances in Rodrigos "Tres Piezas Espanolas". The steady rhythm, the virtuosic flowing scales and the spicy ornamentation and multilayered harmonics.
Mr. Busch plays with great easiness and has a multitude of musical possibilities at hand.
( P.Maier/Gitarre aktuell)

.. I enjoyed this CD enormously
Torroba's Sonatine begins the recording in fine style, beautifully played with excellent tone, musicality and very well-chosen tempi.
The José – Sonata is treated to a majestic, persuasive reading: in fact, I 've yet to encounter a more convincing and stylish interpretation of the work.
Rodrigo's Tres Piezas Españolas ….. there are few that I would place above or even alongside the current version.
….. a truly magnificent interpretation.
( R. Burley - Guitar Players)

..Absolute transparent and at the same time a conception of a charming cantabile.
It is Mr.Busch's outstanding merit to give this opus (Sonata by A.Jose) such an adequate recording.
(Musikblatt)
This really virtuosic, spirited and very precise recording shows Mr.Busch as a guitarist of the younger generation who set new benchmarks within the last decade.
One rarely hears these extremely difficult to play pieces – Tres Piezas Espanolas – with a grating drive like this.
An absolute convincing CD!