Ulrich Busch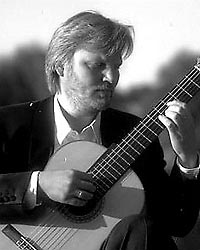 Ulrich Busch did his bachelor degree in music at the College of the Arts under the supervision of Professor Bernhard Hebb at the College of the Arts in Bremen. He continued his studies, doing his Masters in music under the supervision of Professor Frank Bungarten at the Collage of the Arts and Theatre in Hannover.
Master Student of internationaly renowned guitarists such as:
Pepe Romero
David Russel
Manuel Barrueco
Price winner and finalist at international guitar-competitions:
" Radio France Competition " 1990 in Paris
" El Escorial " Segovia Competition 1989 in Madrid
" Ulricehamn " Competition 1986 in Sweden

Internationally established as a soloist, chamber-musician, teacher and juror at competitions.
His extensive repertoire includes the works for the vihuela, a guitarlike Spanish instrument from the 16th century, the lute-music of the 17th and 18th century and of course the beautiful and rich treasures of original guitar music from the masters of the 19th and 20th century with an emphasis on Classic-Romantic and Spanish-South-American Guitar music.

Chamber ensembles
" Duo Chanterelle "
with Wiltrud de Vries, soprano
" Trio Chanterelle "
Wiltrud de Vries, Sopran Bernhard Scheffel, Tenor
Currently his activities comprise concerts as a soloist, with orchestra and various chamber ensembles.
He is a well-known and demanded guitar-teacher:

At the College of Music in Verden
Lecturer at the Institute for Music-Pedagogy, University of Bremen (1990 to 1997)
Lecturer for Master courses in Rust, Austria and Plovdiv, Bulgaria
Private teacher and tutor